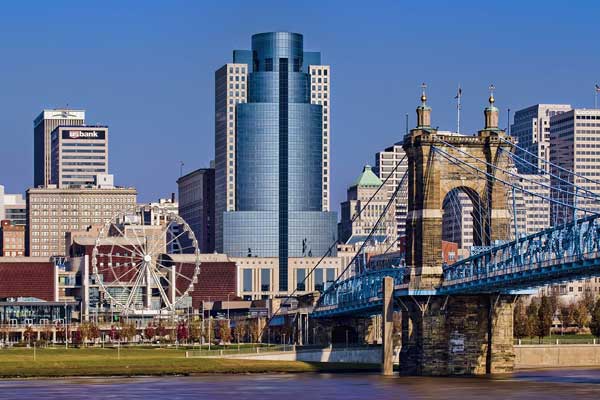 Expert Heating, Cooling & Indoor Air Quality Services in Cincinnati, Ohio
At Five Star Heating & Cooling Cincinnati, we offer every kind of HVAC service imaginable, from A to Z, all of which come at competitive, affordable, prices our competitors find hard to beat. And we are happy to extend these services to all the residents of Cincinnati, OH. Check out our special online deals!
In addition to HVAC system repairs and installations, for residents looking to get the most out of their system and save money on energy bills, we provide AC maintenance and furnace maintenance year-round on all varieties of home Heating and Cooling systems, or any HVAC system for that matter. Experts strongly urge homeowners to take advantage of routine preventative HVAC maintenance, before the commencement of each season of usage, regardless of the system or its age.
Choose Five Star Heating & Cooling Cincinnati for your next Heating, Cooling, or Indoor Air Quality needs. Experience the Five Star Difference in Cincinnati, OH!









Getting to Know Cincinnati, OH
Famous for its thriving art culture, its professional sports teams and its infamous chili, Cincinnati is one of the coolest places to visit in the midwest. The city is colorful, welcoming, vibrant and unique. With a beautiful culture and skyline, it's no wonder many call Cincinnati one of the best places in the world to live. Currently, Cincinnati has a population of more than 300,000 people. It is the third largest city in Ohio.
Originally, Cincinnati was settled in 1788. The city is located at the northern side of the junction of the Licking and Ohio rivers, the latter of which serves as the state line with Kentucky. For many years, Cincinnati was one of the fastest-growing economic powers in the entire Midwest. The economic and cultural hub that is the Cincinnati Metropolitan Area has a population of 2,190,209. This makes it the nation's 29th biggest Metro Area. During the 19th century, Cincinnati was widely considered a major boomtown in the middle of the country. It has consistently ranked in the nation's Top 10 cities and it is known for its beautiful architecture, theaters and museums in addition to several universities and colleges.
For those who enjoy sports, especially professional sports, Cincinnati has a lot to offer. The city is the home of the Cincinnati Reds, Cincinnati Bengals and FC Cincinnati. It also has several collegiate teams. With all these in one city, visitors can always find a game to attend. If not, you can also visit Kings Island Amusement Park, which is 30-minutes north. Also to the north, you'll also find the Cincinnati Zoo and art museums. With endless activities, Cincinnati is full of fun and adventure.
Cincinnati was named after the 5th-century B.C. Roman soldier and hero, Lucius Quinctius Cincinnatus. Cincinnatus was considered a hero for leading the republic's army to victory over invaders. After saving his country, he denied the rewards of ruler, relinquishing his appointed role as dictator, to return to his farm where he lived out the remainder of his days in obscurity.
Quality Heating, Cooling & Indoor Air Quality Services in Cincinnati, OH
Our team at Five Star Heating & Cooling Cincinnati proudly serves the residents of Cincinnati, Ohio, among neighboring communities, with the absolute highest level of customer service possible at the most competitive and affordable prices in the market. For each and every customer we serve, day in and day out, we strive to provide our Five Star Experience each and every time.
For those Cincinnati residents looking to stay cool during the hot, Ohio summers, we have around-the-clock emergency HVAC repair service (365 days a year) as well as affordable A/C installation and air conditioning system replacement. We also have emergency furnace repair (available day and night as well), heat pump repair, and furnace installation, and Heating system replacement. We service all brands and types of HVAC equipment, no matter the age!
If you're looking to improve your home's Indoor Air Quality, we also offer a whole line of products that include humidifiers, dehumidifiers, air purifiers, UV lights, smart thermostats, and special air filters. This is in addition to the air duct cleaning service we provide, for those who suspect their ductwork might need a professional hand.
Our trucks stay fully stocked, outfitted with all sorts of cutting-edge, high-quality, HVAC equipment, parts, and tools. This includes a wide range of furnace filters, HEPA filters, AC filters, and all sorts of other parts. We stay up-to-date with the latest technology in thermostats, including smart thermostats and programmable thermostats, which cost less than you'd think and yet pay for themselves quickly with the added convenience and energy savings. We also fix AC fans and AC compressors, in addition to recharging AC refrigerant levels when necessary. This, we should mention, should only be performed by a professional as air conditioning refrigerant is hazardous. We also service electric furnaces, gas furnaces, and heat pumps.