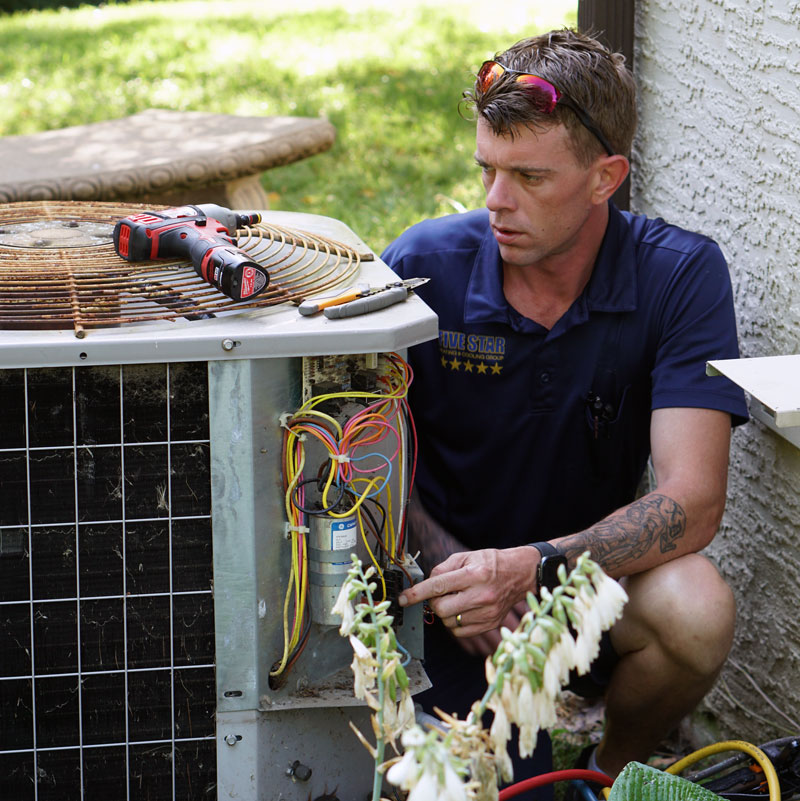 Air Conditioner Repair & A/C Diagnostic Services in Cincinnati, OH
You'll never spend a night sweating an A/C breakdown when you choose Five Star Heating & Cooling Cincinnati. Homeowners can always count on us to deliver fast results in an affordable manner. You can count on us to do HVAC right the first time, saving you time and money. That's HVAC made easy. HVAC with a smile. We take pride in our work and never leave a stone unturned or cut a corner, performing expert air conditioner diagnostics at a low cost with no obligations.
If you're having problems with an air conditioner or your central air unit is acting up in your Cincinnati, Ohio, area home, we can send a NATE-certified technician to your home right away. Our team members are carefully screened and selected, fully insured, and highly-trained to perform better than the competition and do the job right the first time. Our AC repair technicians show up to your home quickly, correctly diagnose your AC crisis accurately, and offer expert and affordable A/C repair services that are local. We will never charge you more than absolutely necessary, and we keep the customer's best interest in mind and value honesty and integrity above all else.
Featured Deal
Save 10% on a Service Call
Are you having issues with your furnace or problems with an A/C or heater? Five Star Heating & Cooling Cincinnati cares! We can help you get to the bottom of it and get you back into comfort in no time. If you're having HVAC problems, take advantage of this special offer with Five Star Heating & Cooling Cincinnati.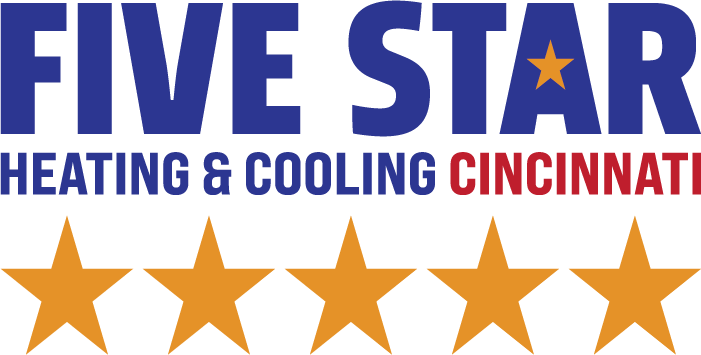 10% off Service Call
Book Now!
4 Common Air Conditioner Repairs
We hope you and your family are staying cool in your relaxing homes this summer. We at Five Star Cincinnati highlight 4 common air conditioner repairs we make throughout the summer season:
Failing Blower Motor
Blowers are often in either hot or humid areas and don't get the love and attention they deserve sometimes, including lubricating their bearings or keeping them free from dirt and debris. In addition, older motors have capacitors to help them start, and as those capacitors age or wear out, additional stress is placed on the motor during startup.
Frost and Ice Formation
Any squealing sounds are a cause for concern since it could indicate the fan belt is wearing out. If the belt snaps before a professional can replace it, the repair could end up being far more expensive.
Low Refrigerant
The refrigerant in your air-conditioning system, most often R22 (Freon) or 410A (Puron), is what transfers heat to make your system cool. If the refrigerant is too low, the system will struggle to keep up; it may freeze, ultimately not cool your house efficiently (or at all).
No Power to Air Conditioner
This is the most obvious problem to diagnose. This could be due to faulty wiring, a tripped breaker, or an overheated AC that has shut itself off. A Five Star technician can fix the wiring, reset the circuit breaker, and make sure nothing is blocking airflow to the outdoor unit.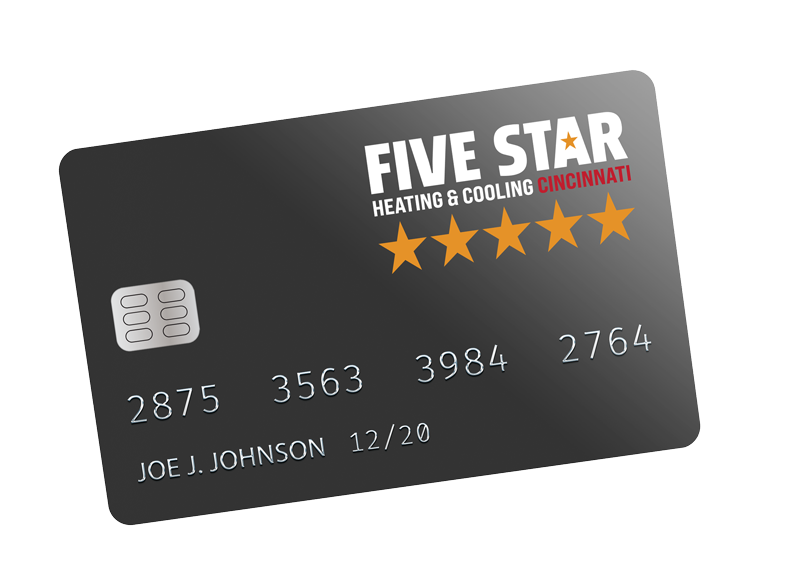 HVAC Financing Options in Cincinnati, OH
It's never been easier to get the best possible system for your home and pay over a period of time. HVAC system replacement can come as a surprise. We at Five Star recognize this, and that's why we offer different payment plans so you can enjoy comfort immediately, regardless of your budget. And when combined with tax credits, rebates, and online deals, financing makes your family's long-term comfort remarkably affordable. Buy today and pay over time with HVAC financing in Cincinnati, OH & surrounding areas.
Can Five Star Repair My Air Conditioner?
When you want something done right, something that requires skill and experience, you choose the right people to do it. It's simple, really. An HVAC company's name is everything in the home heating and cooling industry, and you can't fake good business or excellent workmanship. We have experience repairing the following issues: AC running constantly, ac not turning on, hot air blowing out, unit turning on and off repeatedly, AC freezing over, low refrigerant, refrigerant leaks, strange smells, circuit breakers, thermostat malfunction, and more.
Because furnaces, air conditioning systems, heat pumps and other HVAC equipment are so expensive and because their overall performance affects your monthly bills in addition to your home comfort, health and well-being — choosing the right HVAC contractor for your home comfort needs is a very important decision you should not take lightly.
GENERALLY SPEAKING, YOU SHOULD REPAIR Cooling SYSTEM IF:
The repair is relatively cheap and simple
This is your first need for repair
The unit is under 15 years of age
The unit is under warranty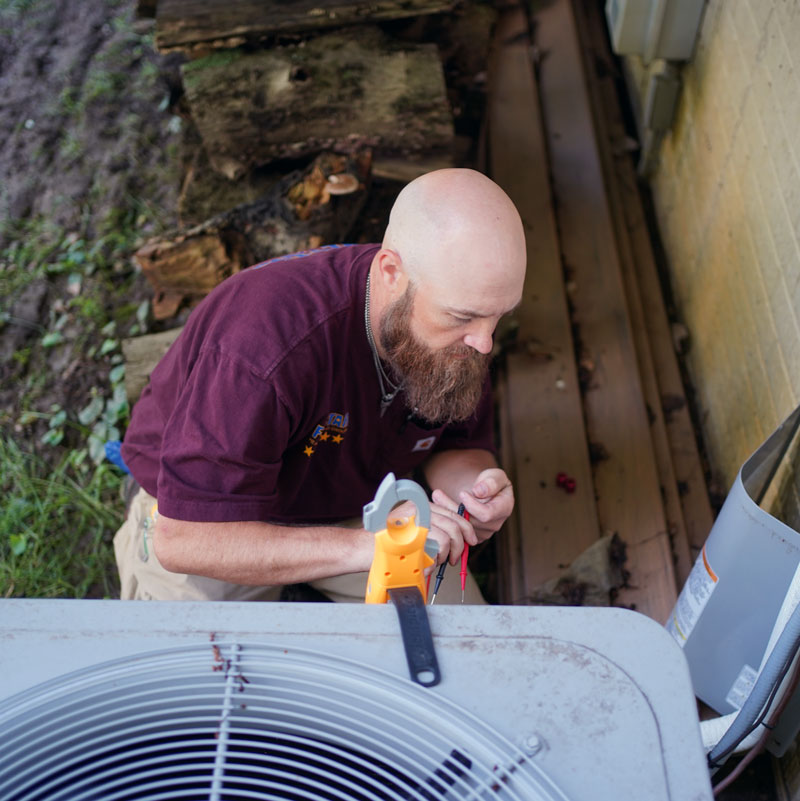 The Gold Standard in HVAC Services Since 1972
We at Five Star Heating & Cooling Cincinnati are the real deal. We always strive to leverage the highest quality of services and superior HVAC products at the most competitive price rates in the local market. We strive to offer our customers the most and maintain our Five Star reputation. On each and every job we do, we guarantee customer satisfaction across the board because your satisfaction is our highest priority. We also have a Best Price Guarantee on all the industry's top equipment, with customer-focused hours.
For residents looking to stay cool during the hot Ohio summers, we have around-the-clock emergency HVAC repair service (365 days a year) as well as affordable A/C installation and air conditioning system replacement. We also have emergency furnace repair (available day and night as well), heat pump repair, furnace installation, and Heating system replacement. We service all brands and types of HVAC equipment, no matter the age! If you're looking to improve your home's Indoor Air Quality, we also offer a whole line of products that include humidifiers, dehumidifiers, air purifiers, UV lights, smart thermostats, and special air filters. This is in addition to the air duct cleaning service we provide for those who suspect their ductwork might need a professional hand.
Do you need to purchase a new residential furnace, heat pump, or air conditioning system but cannot pay all at once? Check out our current financing offer we at Five Star Heating & Cooling Cincinnati offer customers. We also have online deals that can't be topped in the local market. Our service areas include Greater Cincinnati, including Blue Ash, Lebanon, Milford, Monroe, Fairfield, Springboro, and much more. Experience the Five Star Difference today!
We Service All HVAC Brands

Experience the Five Star Difference.


Free Estimates
Schedule Now

Service Call
with a paid repair