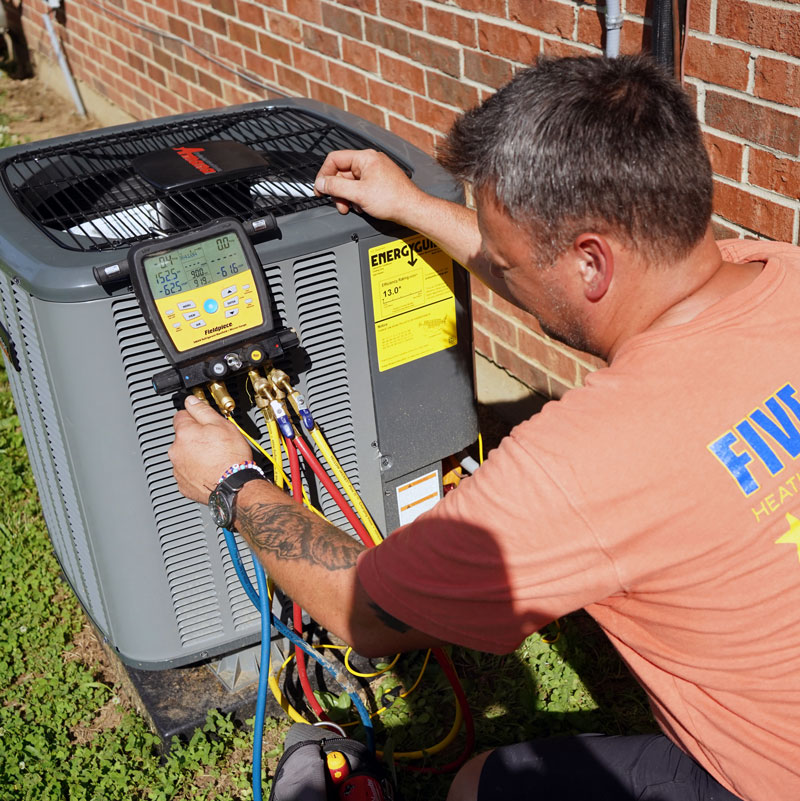 Seasonal Heat Pump Maintenance in Cincinnati, OH
The convenience of alternating one unit from heating to cooling and back again each passing season is one of the many wonderful benefits of owning a heat pump. If you own a heat pump in the Cincinnati area or surrounding areas, we can help you keep it running at it's best to protect your home investment.
Taking advantage of our heat pump maintenance services helps you get the most from your heat pump year-round, keeping your energy bills down while extending its expectancy for as long as possible. We offer maintenance programs to help you optimize your unit's performance and all but eliminate the need for unexpected repairs. Additionally, our HVAC technicians will inspect your system from top to bottom to catch little problems before they become big ones. That will save you time, money, and above all, stress!
4 Benefits of Regular Heat Pump Maintenance
Much like a central air conditioner, a heat pump needs proper airflow through its indoor and outdoor coils to provide the year-round comfort we pay for and deserve. Guaranteeing our heat pumps are clean and regular preventative maintenance helps us avoid costly and inconvenient heat pump breakdowns and inefficiencies.
Increases Unit's Lifespan
Because these systems are so expensive to replace, maintenance should be a staple in any home improvement plan. Maintenance prolongs the system's useful lifespan, enabling it to perform at its best, and reducing energy costs.
Avoid Unexpected Breakdowns

When a professional inspect your heat pump as scheduled, you'll never run into surprise repairs. Oftentimes, these issues will be found during a tune-up. Save yourself from surprises!
Decrease Wear and Tear on Parts

Having a professional clean your coils and replace the air filters promotes free airflow, which prevents wear and tear that could raise energy costs and reduce the heat pump's lifespan.
More effective home heating
Home heating needs to be more than just dependable. It also has to be even. Cold spots are hugely frustrating, and a properly maintained heating system should never create any. This is because the cleaning and calibrations specialists will perform improves airflow and temperature detection, leading to more thorough heat.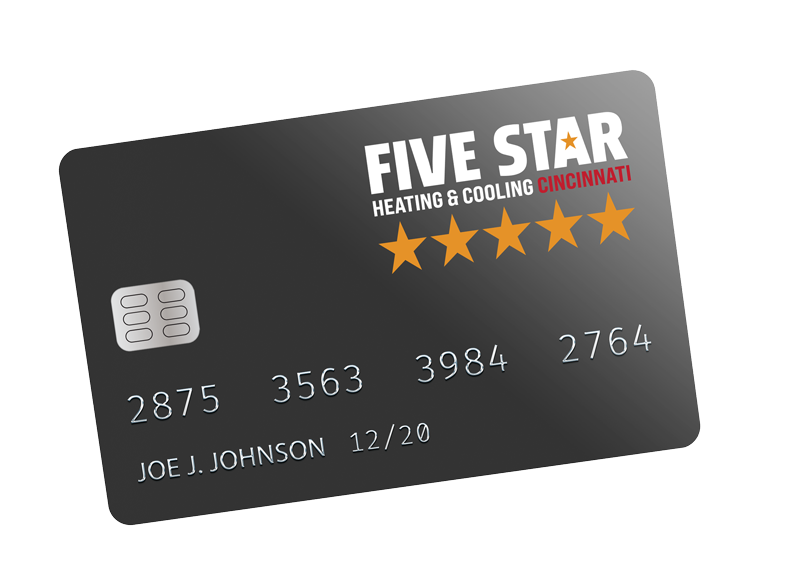 HVAC Financing Options in Cincinnati, OH
It's never been easier to get the best possible system for your home and pay over a period of time. HVAC system replacement can come as a surprise. We at Five Star recognize this, and that's why we offer different payment plans so you can enjoy comfort immediately, regardless of your budget. And when combined with tax credits, rebates, and online deals, financing makes your family's long-term comfort remarkably affordable. Buy today and pay over time with HVAC financing in Cincinnati, OH & surrounding areas.
Heat Pump Tune-Ups in Hamilton County
Although having one of our team members inspect your heat pump doesn't take up a lot of time, a lot goes on during our brief friendly visit as we test and visually investigate to keep your system in its prime. Our comprehensive annual check-ups improve your heat pump's output and efficiency more than you might expect. When a member of our highly skilled, highly trusted team comes out to your home, you can expect them to perform various tasks.
Avoid unexpected heat pump problems! Contact Five Star to sign up for our maintenance plan.
Our Heat Pump Tune-Up Includes:
Lubricate all moving parts
Fluid top-up
Carbon monoxide safety test
Blower inspection
Calibrate your thermostat
and more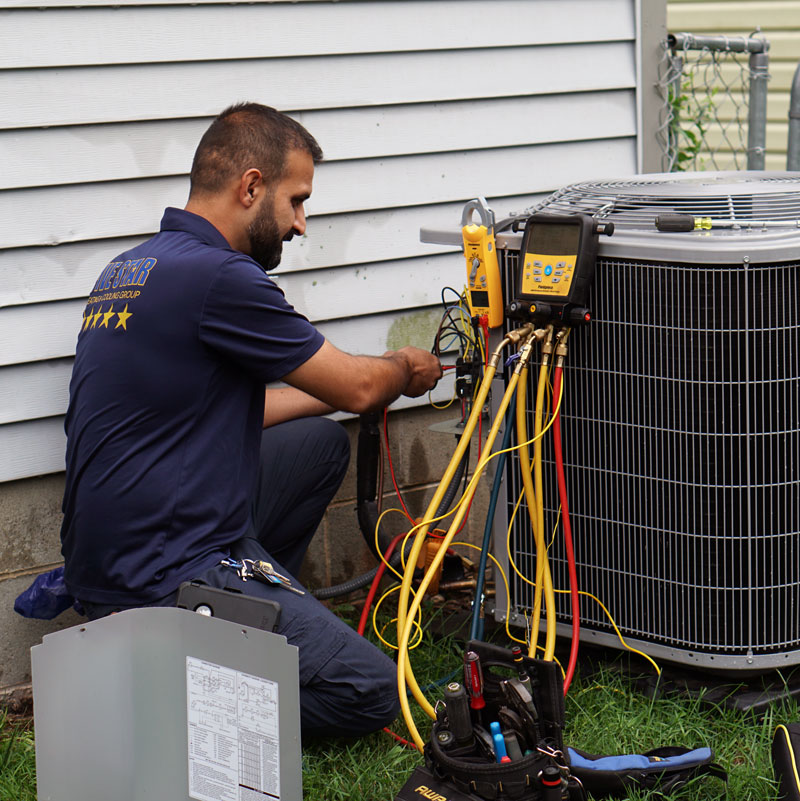 The Gold Standard in HVAC Services Since 1972
We at Five Star Heating & Cooling Cincinnati are the real deal. We always strive to leverage the highest quality of services and superior HVAC products at the most competitive price rates in the local market. We strive to offer our customers the most and maintain our Five Star reputation. On each and every job we do, we guarantee customer satisfaction across the board because your satisfaction is our highest priority. We also have a Best Price Guarantee on all the industry's top equipment, with customer-focused hours.
For residents looking to stay cool during the hot Ohio summers, we have around-the-clock emergency HVAC repair service (365 days a year) as well as affordable A/C installation and air conditioning system replacement. We also have emergency furnace repair (available day and night as well), heat pump repair, furnace installation, and Heating system replacement. We service all brands and types of HVAC equipment, no matter the age! If you're looking to improve your home's Indoor Air Quality, we also offer a whole line of products that include humidifiers, dehumidifiers, air purifiers, UV lights, smart thermostats, and special air filters. This is in addition to the air duct cleaning service we provide for those who suspect their ductwork might need a professional hand.
Do you need to purchase a new residential furnace, heat pump, or air conditioning system but cannot pay all at once? Check out our current financing offer we at Five Star Heating & Cooling Cincinnati offer customers. We also have online deals that can't be topped in the local market. Our service areas include Greater Cincinnati, including Blue Ash, Lebanon, Milford, Monroe, Fairfield, Springboro, and much more. Experience the Five Star Difference today!
We Service All HVAC Brands

Experience the Five Star Difference.


Free Estimates
Schedule Now

Service Call
with a paid repair