Cincinnati Furnace & HEating System Repair, Maintenance, & Installation
Homeowners need their furnaces to be dependable to get them through Ohio's cold season. So whether your furnace is outdated, inefficient, needs to be serviced or is giving you problems — Five Star Heating & Cooling Cincinnati is a full-service NATE-certified company that serves the Greater Cincinnati that homeowners can call on anytime, with extended hours of customer support. Experience the Five Star Difference today!
4 Home Heating Tips for Cincinnati Homeowners
We hope you enjoy a comfortable and cozy winter in your well-heated Central Ohio home. More importantly than comfort, however, we want you to keep your residence safe throughout the winter and holidays. We've put together the following general home heating safety tips to follow to avoid any hazardous circumstances:
Replace Air Filters
Furnace filters must be checked every month during the winter and must usually be replaced just as often. Once you locate the filters, replacing them is as simple as pulling out the old ones and putting the new ones in. Before inserting the new furnace filters, write the date on one end for future reference. Depending on your home's age, it might also be a good idea to have a professional air duct cleaning and inspection performed.
Create Safe Spaces
Anything flammable or combustible should be kept at least three feet away from any and all heating equipment and heat sources, including furnaces, fireplaces, and portable space heaters. This area should be a "kid-free zone."
Learn the Details About Your Furnace's Warranty
Knowing the details about the warranty that came with the HVAC system in your home will benefit you down the road. Pay close attention to the period of coverage you have and the types of repairs your warranty covers. If you or your home's previous homeowners failed to hire a licensed professional to perform annual maintenance, your warranty could have been voided. You need to know if the warranty is still active and be mindful of things that could accidentally void it.
Report Gas Concerns
Do not light an appliance or ignite if you smell gas in your home or emanate from your gas heater. Evacuate your home immediately if you suspect gas is leaking, and call your local fire department or gas company before re-entering.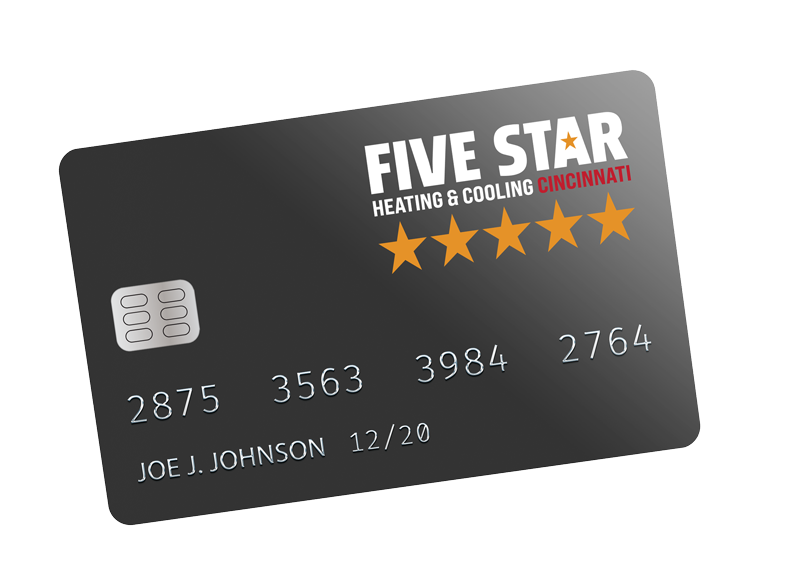 HVAC Financing Options in Cincinnati, OH
It's never been easier to get the best possible system for your home and pay over a period of time. HVAC system replacement can come as a surprise. We at Five Star recognize this, and that's why we offer different payment plans so you can enjoy comfort immediately, regardless of your budget. And when combined with tax credits, rebates, and online deals, financing makes your family's long-term comfort remarkably affordable. Buy today and pay over time with HVAC financing in Cincinnati, OH & surrounding areas.
We Repair Heating Systems in Cincinnati, OH
Whether your Heating system or furnace is making funny noises, or you're having problems keeping your home as warm or your furnace has broken down altogether — the home Heating heroes of Five Star Heating & Cooling Cincinnati are always a quick and easy phone call (or mouse click) away! We have a whole team of NATE-certified experts in your area ready to come over and help. The best part is that we don't charge an arm and a leg. Just ask around!
Five Star is the best choice for all your furnace repair and Heating system needs, no matter what those Heating or Cooling needs might be. Our local HVAC shop isn't far away either, and our team members are all NATE-certified employees of our company who are members of the Cincinnati Ohio area community. Our furnace experts are highly trained and fully insured. As a local HVAC company here in Southwest Ohio, we offer the complete selection of high-quality Heating system products and furnace repair services at the most competitive price rates you'll find in the market.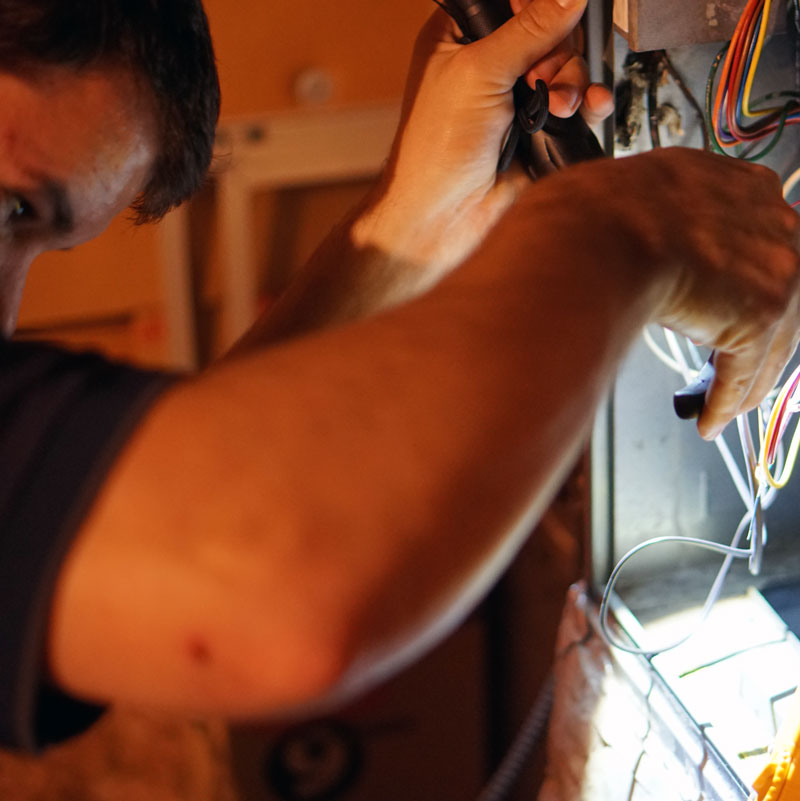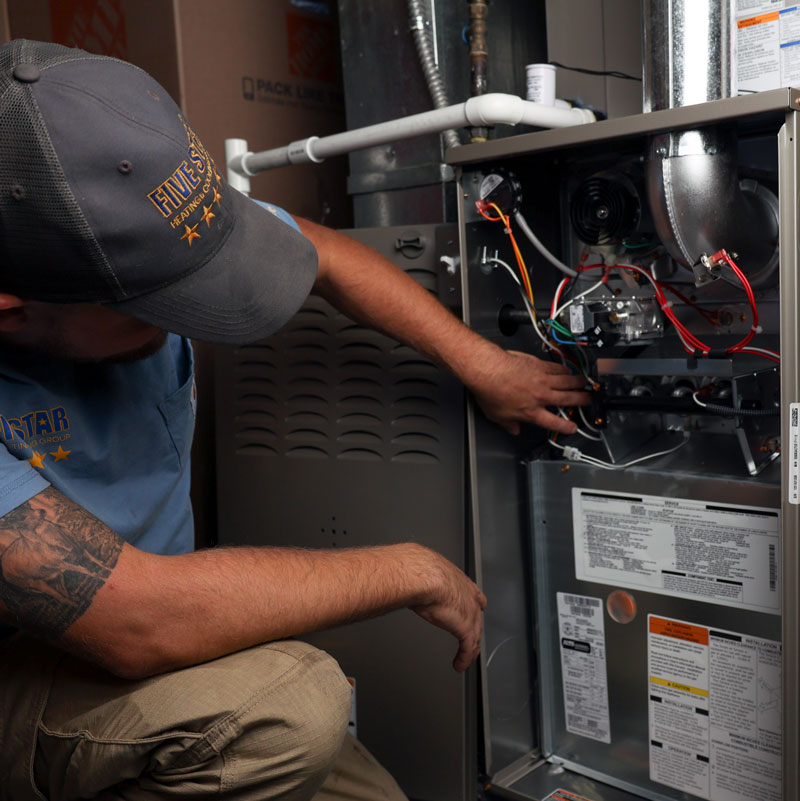 Local Furnace Tune-Up & Safety Checks
At Five Star Heating & Cooling Cincinnati, our residential furnace maintenance service is a great investment that enables a homeowner to make sure their home Heating system is good to go and ready for the winter while enabling it to last for winters to come. This service helps boost your furnace's Heating output while, at the same time, decreasing Heating costs and boosting efficiency. Ultimately, Heating system/furnace maintenance decreases a homeowners chances of having a furnace breakdown during the wintertime.
Here's a few of the service included in a heating system tune-up:
Check burner flame
Check and inspect the circuit board
Carbon monoxide safety test
Check belt (tension adjustment)
Check pilot assembly and ignition sequence
and much more
Buy a New Residential Furnace in Cincinnati & Surrounding Areas
Here in Ohio, the weather can get rather cold during the winter, making reliable furnaces and Heating units rather indispensable. If you're in the market for a new furnace or your heater isn't performing as well as it should, Five Star Heating & Cooling Cincinnati is the company to call. We're local, family-owned, fully insured and NATE-certified. We offer a Best Price Guarantee on the HVAC industry's leading equipment in addition to a Customer Satisfaction Guarantee you can take to the bank. We offer a variety of brands including Amana®, Goodman®, Five Star® and more.
Overall, we are the HVAC contractor to call in Southwest Ohio for any sort of home comfort need. We will guide you through the furnace installation process without any strings attached and make your overall experience a positive one as we welcome you into the Five Star Family of customers.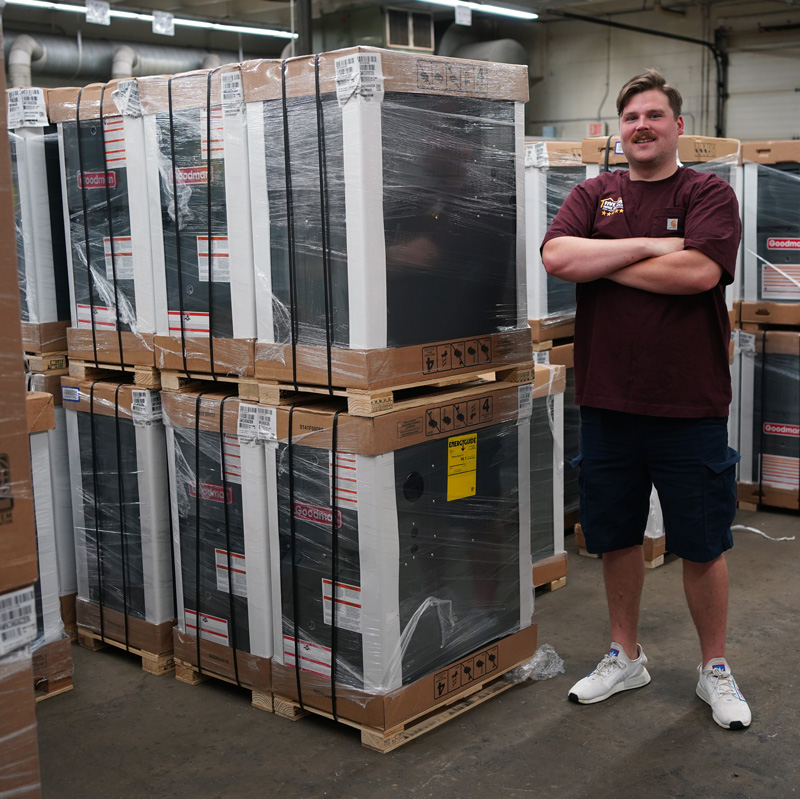 Cincinnati Heat Pump Services
Heat pumps have become a common alternative for homeowners in recent years because of their convenience and dependability. Heat pumps are great 2-in-1-systems for cooling and heating a residence. At Five Star Heating & Cooling Cincinnati, we offer a wide range of heat pump services in Cincinnati, OH, and surrounding areas! Are you interested in installing a heat pump in your Southwest Ohio area home? We can set you up with a heat pump that works in conjunction with your HVAC equipment, or it can be used to replace old equipment. We can install high-efficiency heat pumps at an amazing price. We can also repair an existing heat pump or perform heat pump maintenance. Experience the power of this dual-HVAC system and schedule your heat pump services with Five Star!
Don't go another day without a working heat pump. We repair all makes, models, and ages.
Heat pumps need yearly maintenance to heat and cool your home properly.
We have a selection of heat pumps for all budgets, home sizes, and existing HVAC systems.
The Gold Standard in HVAC Services Since 1972
We at Five Star Heating & Cooling Cincinnati are the real deal. We always strive to leverage the highest quality of services and superior HVAC products at the most competitive price rates in the local market. We strive to offer our customers the most and maintain our Five Star reputation. On each and every job we do, we guarantee customer satisfaction across the board because your satisfaction is our highest priority. We also have a Best Price Guarantee on all the industry's top equipment, with customer-focused hours.
For residents looking to stay cool during the hot Ohio summers, we have around-the-clock emergency HVAC repair service (365 days a year) as well as affordable A/C installation and air conditioning system replacement. We also have emergency furnace repair (available day and night as well), heat pump repair, furnace installation, and Heating system replacement. We service all brands and types of HVAC equipment, no matter the age! If you're looking to improve your home's Indoor Air Quality, we also offer a whole line of products that include humidifiers, dehumidifiers, air purifiers, UV lights, smart thermostats, and special air filters. This is in addition to the air duct cleaning service we provide for those who suspect their ductwork might need a professional hand.
Do you need to purchase a new residential furnace, heat pump, or air conditioning system but cannot pay all at once? Check out our current financing offer we at Five Star Heating & Cooling Cincinnati offer customers. We also have online deals that can't be topped in the local market. Our service areas include Greater Cincinnati, including Blue Ash, Lebanon, Milford, Monroe, Fairfield, Springboro, and much more. Experience the Five Star Difference today!
We Service All HVAC Brands

Experience the Five Star Difference.


Free Estimates
Schedule Now

Service Call
with a paid repair