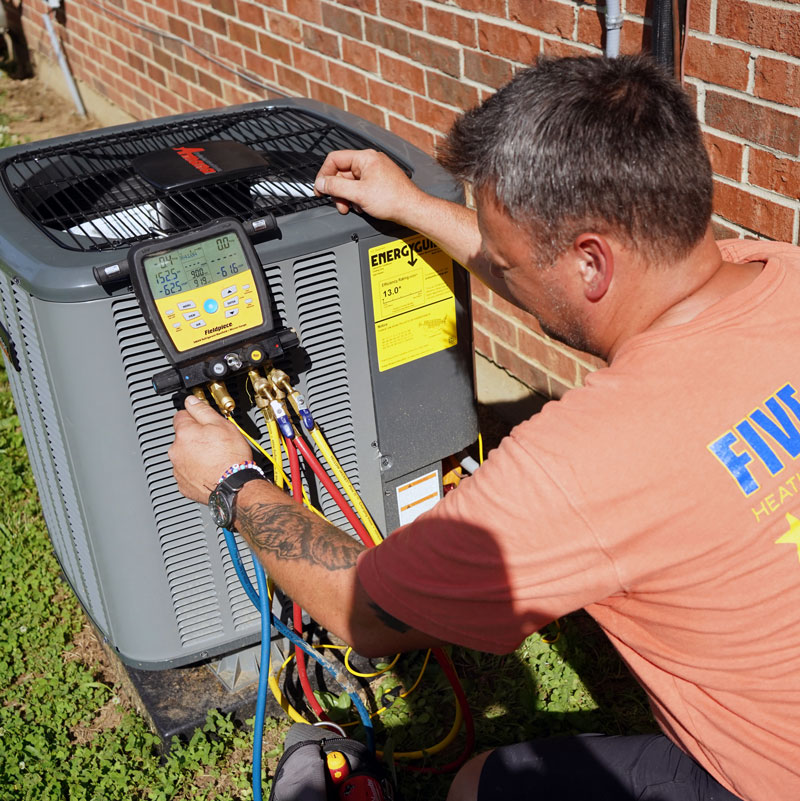 Air Conditioner Maintenance in Cincinnati, OH
Taking care of a home Cooling system requires seasonal maintenance each and every year. Having this preventative AC service performed in the spring or early summer by a NATE-certified professional is indispensable. Overall, having one of our local AC experts perform seasonal maintenance is something that always pays off in dividends in the end with savings in Cooling costs, repairs and longer lasting equipment.
At Five Star Heating & Cooling Cincinnati, our AC tune up and seasonal maintenance service is designed to give you the most bang for your buck on your home's expensive and intricate Cooling system, which you should look at like an investment that affects your budget and bills and home value. These are intricate machines and complex systems that require regular attention and care from an expert that cares. The service itself might cost a lot of money up front. However, failing to have this service performed by an ac expert will invalidate your ac warranty provided by your AC manufacturer.
Featured Deal
Air Conditioner Tune-Up + Check Out
Keep your air conditioner healthy and working at optimal speed with regular maintenance services provided by a Five Star professional! We'd love to give your A/C a tune-up to make sure you're good to go for summer. Claim this special offer today!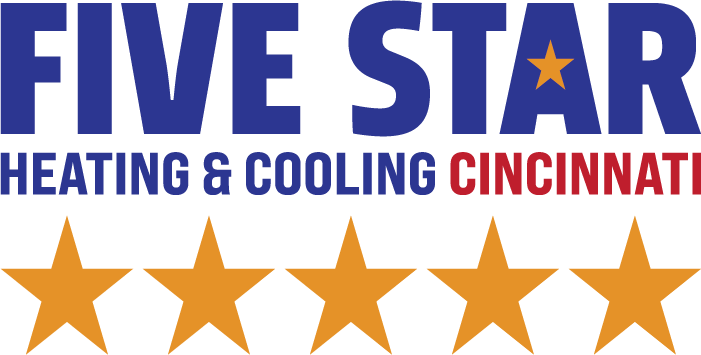 $69 A/C Tune-Up + Check Out
SAVE $30 | Regularly $99
4 Benefits of A/C Maintenance
Utilizing our very cost-effective, seasonal A/C maintenance services offers plenty of benefits. Maintenance is a smart way to avoid unexpected breakdowns because our A/C technicians probe for issues you might not know about, things that could evolve into bigger problems during the summer months.
Avoiding Emergency Problems
As part of our maintenance service, we help you avoid potential problems down the road. HVAC maintenance in general is often compared to getting a checkup with a dentist or having the oil changed on a car or automobile. Seasonal maintenance enables one of our state-certified HVAC technicians to optimize the residential cooling equipment, making sure it's in the best possible condition prior to going into summer. Outdated, worn or defective parts are identified and can be replaced before they cause damage or cause a breakdown in addition to inhibiting the system's otherwise smooth and efficient operation. Measures like these prevent a lot of discomfort and stress in addition to saving money in the long run.
Better Energy Efficiency
Let's be honest, who isn't looking for ways to reduce their monthly energy bills? Because your air conditioner has a major impact on your home's energy efficiency, making sure it's up to par to perform as it should is essential. This is where maintenance comes in. Although maintenance might cost a little up front, the back-end savings are well worth it. When you get your AC serviced by an HVAC professional, they'll ensure your air filter isn't dirty, your ducts aren't leaking, and your motor is operating properly. All this will help ease your energy bills while staying cool.
Longer Lifespan of Equipment
On average, AC units usually have a lifespan of around 10 to 15 years when they are regularly serviced. However, when they are not consistently maintained, they start to develop wear and tear, and they eventually break down, resulting in costly repairs or even requiring complete replacement. This is partly due to the fact that your system will overwork itself trying to keep up with demands while compensating for any issues it's dealing with.
Improved Indoor Air Quality
The air conditioning team of experts at Five Star Heating & Cooling Cincinnati offers area homeowners a wide range of experience working on all types of A/C's. The level of skill is second to none. During a service call for routine AC maintenance, they clean out particles that end up gathering inside the unit and can become a mess and get trapped there — things like dirt, pet dander, dust, condensation and grime. If not taken care of, this stuff gets inside a homeowner's ductwork and accumulates. Eventually, sooner or later, it can get circulated back inside the air in the home, the air your loved ones breathe.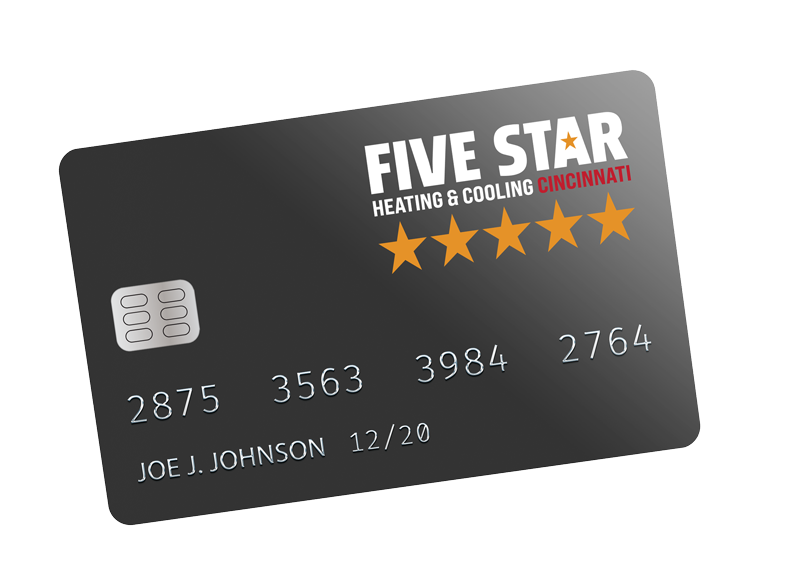 HVAC Financing Options in Cincinnati, OH
It's never been easier to get the best possible system for your home and pay over a period of time. HVAC system replacement can come as a surprise. We at Five Star recognize this, and that's why we offer different payment plans so you can enjoy comfort immediately, regardless of your budget. And when combined with tax credits, rebates, and online deals, financing makes your family's long-term comfort remarkably affordable. Buy today and pay over time with HVAC financing in Cincinnati, OH & surrounding areas.
Cincinnati, OH AC Tune-Ups & Safety Checks
Five Star Heating & Cooling Cincinnati wants you to get the most out of your residential air conditioning equipment without all the hassle of high prices of needing to make unexpected air conditioning repairs or losing service when it's hot outside. We have a cost-effective, convenient service package that simplifies the air conditioning maintenance process and gives our customers results.
Avoid unexpected cooling problems! Contact Five Star to sign up for our maintenance plan.
Our A/C Tune-Up Includes:
Lubricate all moving parts
Fluid top-up
Carbon monoxide safety test
Blower inspection
Calibrate your thermostat
and more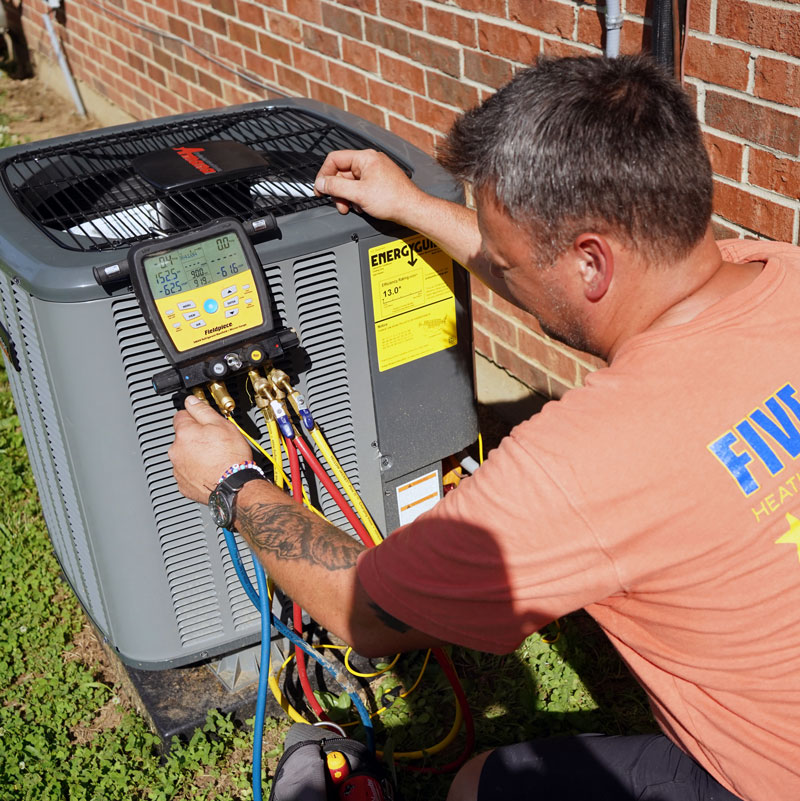 The Gold Standard in HVAC Services Since 1972
We at Five Star Heating & Cooling Cincinnati are the real deal. We always strive to leverage the highest quality of services and superior HVAC products at the most competitive price rates in the local market. We strive to offer our customers the most and maintain our Five Star reputation. On each and every job we do, we guarantee customer satisfaction across the board because your satisfaction is our highest priority. We also have a Best Price Guarantee on all the industry's top equipment, with customer-focused hours.
For residents looking to stay cool during the hot Ohio summers, we have around-the-clock emergency HVAC repair service (365 days a year) as well as affordable A/C installation and air conditioning system replacement. We also have emergency furnace repair (available day and night as well), heat pump repair, furnace installation, and Heating system replacement. We service all brands and types of HVAC equipment, no matter the age! If you're looking to improve your home's Indoor Air Quality, we also offer a whole line of products that include humidifiers, dehumidifiers, air purifiers, UV lights, smart thermostats, and special air filters. This is in addition to the air duct cleaning service we provide for those who suspect their ductwork might need a professional hand.
Do you need to purchase a new residential furnace, heat pump, or air conditioning system but cannot pay all at once? Check out our current financing offer we at Five Star Heating & Cooling Cincinnati offer customers. We also have online deals that can't be topped in the local market. Our service areas include Greater Cincinnati, including Blue Ash, Lebanon, Milford, Monroe, Fairfield, Springboro, and much more. Experience the Five Star Difference today!
We Service All HVAC Brands

Experience the Five Star Difference.


Free Estimates
Schedule Now

Service Call
with a paid repair