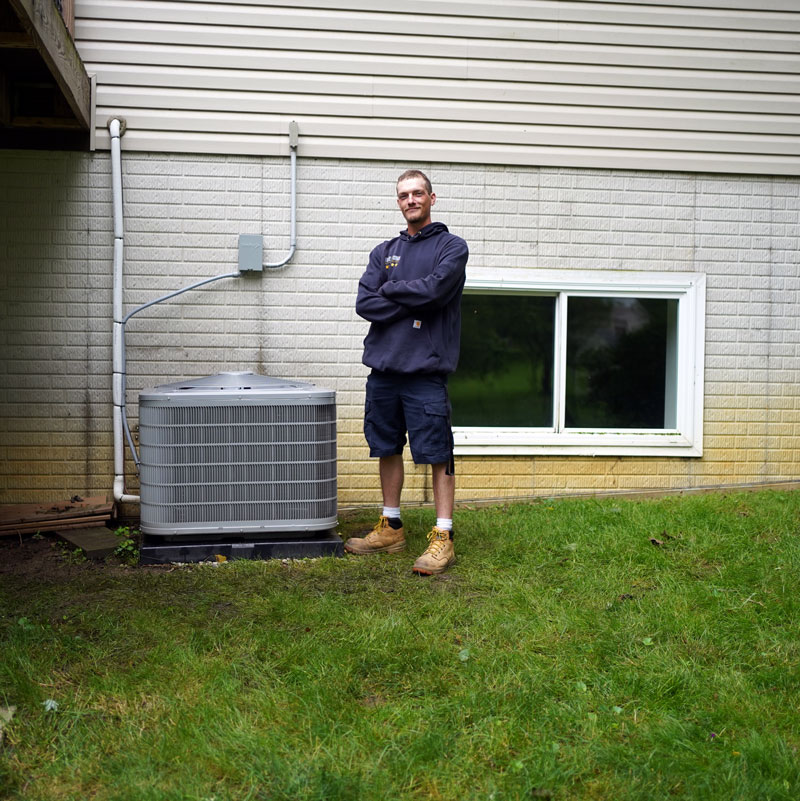 Air Conditioner Installation Replacement in Cincinnati & Surrounding Areas
Replacing any sort of home comfort system is a major responsibility! When it's time to replace a centralized AC, it's never a DIY job you should attempt by yourself or allow a second rate AC installer or repair person to perform to try to save money. You'll pay for it. And you shouldn't risk installing used air conditioning equipment. Used A/C installation is extremely risky. It's not worth it!
We feel a homeowner shouldn't allow the A/C replacement and AC installation process to become a headache, or allow it to intimidate a customer. A homeowner merely needs to get in touch with a reputable company that has technicians working with NATE-certification and comprehensive insurance. It's wise to choose an established business that's been around for a while and stands behind all their work and puts its customers first.
Featured Deal
Free Online Estimate
There comes a point when your furnace, heat pump, or AC just doesn't cut it anymore. Maybe your energy bills have skyrocketed, or the rooms in your home are heating or cooling unevenly. Whatever the case, it might be time to consider a Columbus area furnace replacement. Choose Five Star Heating & Cooling! We'll come out an asses your system, home and your needs - for free.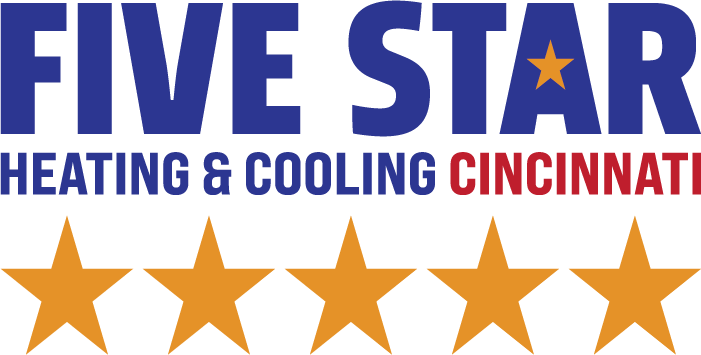 $0 Instant Online Estimate
Get a free quote!
4 Types of Air Conditioners
At Five Star, we prioritize having a selection of quality equipment from industry-leading manufacturers such as Amana®, Trane, Goodman, Rheem, and more. Learn more about some of the top manufacturers in the HVAC industry.
Split Air Conditioner
This AC unit comprises two components: one indoor; the other outdoor. The outdoor unit, of course, is installed on the outside wall of the room in which the indoor unit is located. It includes a compressor, condenser coil, and expansion coil or capillary tubing. The indoor unit is high up on the wall and consists of a cooling coil, a long blower, and an air filter. A split air conditioner can also be between 1 and 3 tons.
Packaged Air Conditioner
This type of AC unit is an all-in-one heating and cooling machine. The system's components lie in the outdoor unit, which is placed on a rooftop or at the foot of the building. The outdoor unit consists of a compressor, electrical panel, thermostatic expansion valve, air filter, front panel, and return air grill. It also includes the evaporator coil, fan, housing, and heating and humidifying components. A packaged AC unit is between 3 and 15 tons.
Central Air Conditioning System
This type of AC unit has a central location, and distributes air to and from various rooms via fans and ducts. Homeowners choose central air conditioners to help regulate humidity and comfort throughout several rooms all at once. The outdoor unit contains a condenser coil, compressor, electrical components, and fan. Inside the house is an evaporator coil. It also has a series of pipes, refrigeration lines, ducts, and a thermostat.
Heat Pump
A heat pump is part of a home heating and cooling system installed outside your home. Like an air conditioner such as central air, it can cool your home, but it's also capable of providing heat. In cooler months, a heat pump pulls heat from the cold outdoor air and transfers it indoors, and in warmer months, it pulls heat out of indoor air to cool your home. They are powered by electricity and transfer heat using a refrigerant to provide comfort all year round.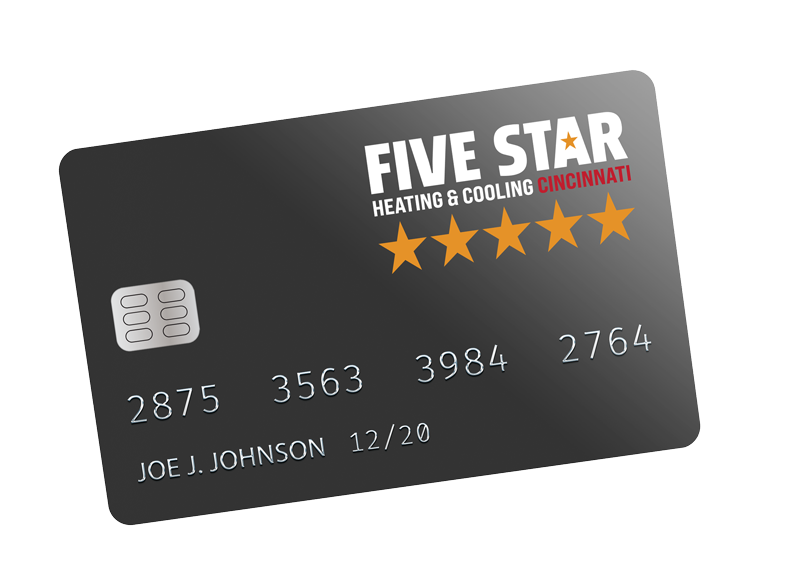 HVAC Financing Options in Cincinnati, OH
It's never been easier to get the best possible system for your home and pay over a period of time. HVAC system replacement can come as a surprise. We at Five Star recognize this, and that's why we offer different payment plans so you can enjoy comfort immediately, regardless of your budget. And when combined with tax credits, rebates, and online deals, financing makes your family's long-term comfort remarkably affordable. Buy today and pay over time with HVAC financing in Cincinnati, OH & surrounding areas.
Why Choose Five Star for Air Conditioner Replacement in Cincinnati?
We offer the Best Price Guarantee on the HVAC industry's top leading HVAC equipment from top-brand comfort system manufacturers. Because of our Customer Satisfaction Guarantee, a homeowner never ends up regretting making Five Star Cincinnati Heating & Cooling their one-stop home comfort system and air quality shop. We guarantee it! We kindly appreciate every customer's business and look forward to working with you!
Did you know that correctly installing an air conditioner can reduce your home's cooling costs by up to 30%? Without a correctly installed air conditioner, you may have airflow, mechanical, and insulation problems that can cause cool air to escape. Not sure which system is best for your home? Contact us online or over the phone at (000) 000-0000 to schedule AC installation in Cincinnati, Dayton, and surrounding areas.
Things you'll need to know:
How big is your home? (sq. ft)
What year was your home built?
Where is your current HVAC system located? (basement, closet, etc.)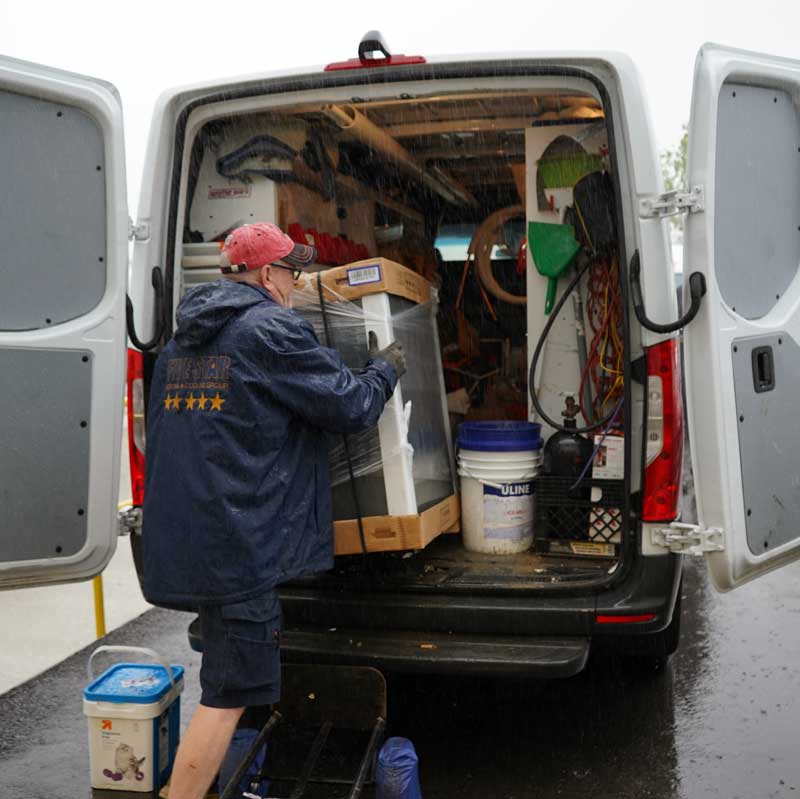 The Gold Standard in HVAC Services Since 1972
We at Five Star Heating & Cooling Cincinnati are the real deal. We always strive to leverage the highest quality of services and superior HVAC products at the most competitive price rates in the local market. We strive to offer our customers the most and maintain our Five Star reputation. On each and every job we do, we guarantee customer satisfaction across the board because your satisfaction is our highest priority. We also have a Best Price Guarantee on all the industry's top equipment, with customer-focused hours.
For residents looking to stay cool during the hot Ohio summers, we have around-the-clock emergency HVAC repair service (365 days a year) as well as affordable A/C installation and air conditioning system replacement. We also have emergency furnace repair (available day and night as well), heat pump repair, furnace installation, and Heating system replacement. We service all brands and types of HVAC equipment, no matter the age! If you're looking to improve your home's Indoor Air Quality, we also offer a whole line of products that include humidifiers, dehumidifiers, air purifiers, UV lights, smart thermostats, and special air filters. This is in addition to the air duct cleaning service we provide for those who suspect their ductwork might need a professional hand.
Do you need to purchase a new residential furnace, heat pump, or air conditioning system but cannot pay all at once? Check out our current financing offer we at Five Star Heating & Cooling Cincinnati offer customers. We also have online deals that can't be topped in the local market. Our service areas include Greater Cincinnati, including Blue Ash, Lebanon, Milford, Monroe, Fairfield, Springboro, and much more. Experience the Five Star Difference today!
We Service All HVAC Brands

Experience the Five Star Difference.


Free Estimates
Schedule Now

Service Call
with a paid repair