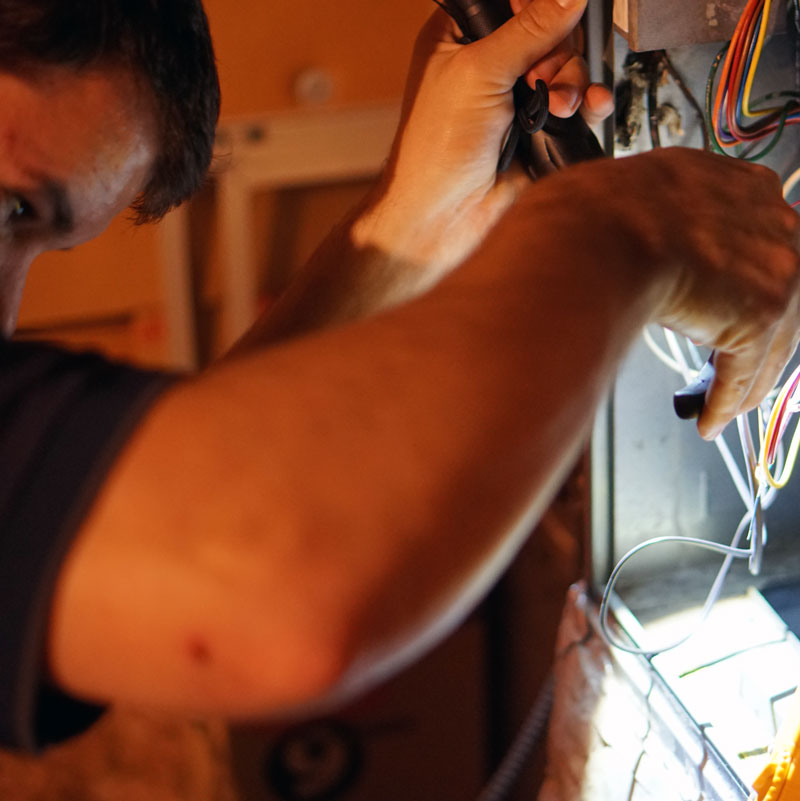 Cincinnati Furnace Repair & Heating System Diagnostics
Whether your furnace is old and outdated, inefficient or if your Heating unit keeps breaking down — Five Star Heating & Cooling Cincinnati is the local full-service NATE-certified heating company you can call on anytime. We are available in person and online. We offer extended customer service hours 365 days a year and customer satisfaction guaranteed and a Best Price Guarantee on the best furnaces in the industry. We repair furnaces with no heat, strange smells, leaks, electrical problems, and more.
If you have a furnace repair near, keep in mind the Five Star Brand is a trusted name in the HVAC industry here in the Greater Cincinnati area. Our friendly team members care about your home comfort in addition to your air quality and we offer emergency furnace repairs throughout the region 365 days a year. Because your heating source doesn't merely work from 9 a.m. to 5 p.m., neither do we! We have extended customer-focused support hours and there is always someone available to take your call.
4 Common Furnace Repairs
We hope you enjoy a comfortable and cozy winter in your well-heated Central Ohio home. More importantly than comfort, however, we want you to keep your residence safe throughout the winter and holidays. We've put together the following general home heating safety tips to follow to avoid any hazardous circumstances:
Yellow Pilot Light
If you're seeing a yellow pilot light, you should definitely take this to heart, as it is a sure sign of what could be serious trouble. You should call us if your pilot light has a yellow flame. This means there's a mixture of gases, and your furnace isn't working properly. The proper color of a pilot light is blue, which indicates there's a correct balance of gases. A yellow pilot light, however, means dangerous gases like carbon monoxide (CO) are mixing.
Spotty Temperatures
If the air feels cold and drafty in certain areas in your home, your furnace might be having performance issues. In the same way, if your home has warmer regions than others, you should call us to discuss the problem, and we can explore your options to resolve it for good.
Unusual Sounds
It is entirely normal for a furnace to make some minor sounds. For example, you should hear the faint hum of the motor even when it's brand new. However, it's abnormal for a furnace to make loud noises like grinding, whistling, or screeching noises. The difference between ordinary and healthy sounds and those that are warning sounds or unhealthy is usually apparent.
No Response to Thermostat
It's our first natural response when we feel cold to try to warm things up by adjusting the thermostat. However, what do we do when we turn the heat up, and the furnace doesn't do anything? If this happens, it could be a result of a bad thermostat, faulty wiring, or you could have leaks in your ductwork.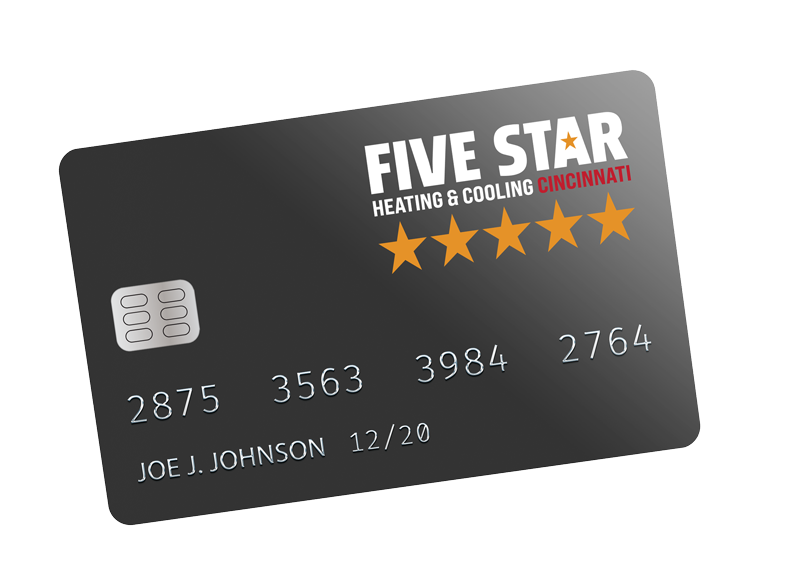 HVAC Financing Options in Cincinnati, OH
It's never been easier to get the best possible system for your home and pay over a period of time. HVAC system replacement can come as a surprise. We at Five Star recognize this, and that's why we offer different payment plans so you can enjoy comfort immediately, regardless of your budget. And when combined with tax credits, rebates, and online deals, financing makes your family's long-term comfort remarkably affordable. Buy today and pay over time with HVAC financing in Cincinnati, OH & surrounding areas.
"Who Can Repair My Furnace in Cincinnati, OH?"
Our certified home heating technicians are well-versed in the full scope of possible heat system problems and we can provide you with everything from emergency furnace repairs, local Heating system installations, Heating system replacement, furnace maintenance, furnace tune-ups, furnace safety checks, humidifiers, air purifiers and anything else related to any sort of HVAC system. Because of our Best Price Guarantee, we have the most competitive rates in the Greater Cincinnati, Ohio, area market.
GENERALLY SPEAKING, YOU SHOULD REPAIR YOUR HEATING SYSTEM IF:
The repair is relatively cheap and simple
This is your first need for repair
The unit is under 15 years of age
The unit is under warranty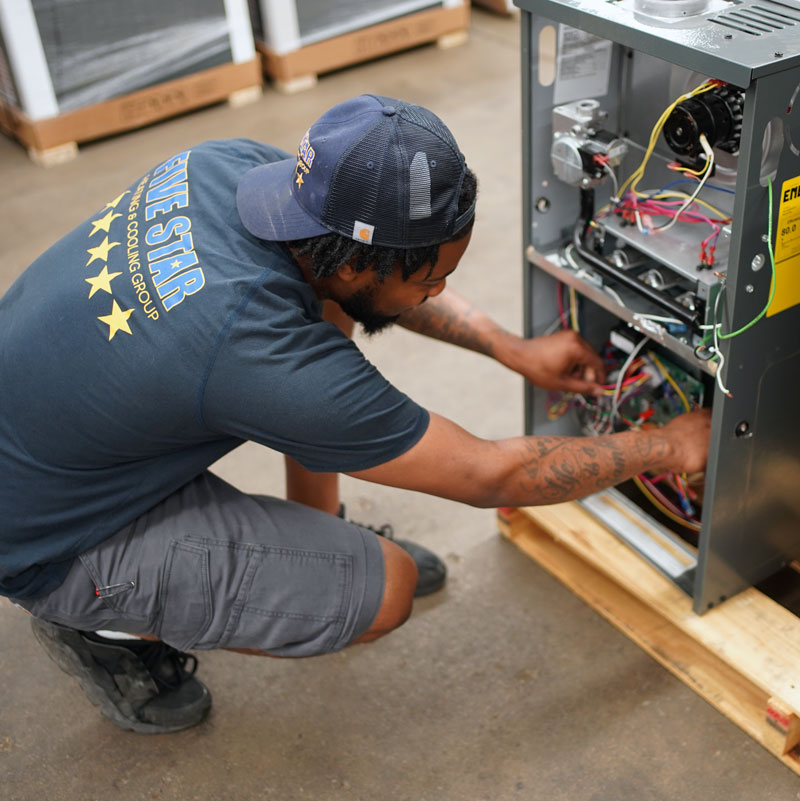 The Gold Standard in HVAC Services Since 1972
We at Five Star Heating & Cooling Cincinnati are the real deal. We always strive to leverage the highest quality of services and superior HVAC products at the most competitive price rates in the local market. We strive to offer our customers the most and maintain our Five Star reputation. On each and every job we do, we guarantee customer satisfaction across the board because your satisfaction is our highest priority. We also have a Best Price Guarantee on all the industry's top equipment, with customer-focused hours.
For residents looking to stay cool during the hot Ohio summers, we have around-the-clock emergency HVAC repair service (365 days a year) as well as affordable A/C installation and air conditioning system replacement. We also have emergency furnace repair (available day and night as well), heat pump repair, furnace installation, and Heating system replacement. We service all brands and types of HVAC equipment, no matter the age! If you're looking to improve your home's Indoor Air Quality, we also offer a whole line of products that include humidifiers, dehumidifiers, air purifiers, UV lights, smart thermostats, and special air filters. This is in addition to the air duct cleaning service we provide for those who suspect their ductwork might need a professional hand.
Do you need to purchase a new residential furnace, heat pump, or air conditioning system but cannot pay all at once? Check out our current financing offer we at Five Star Heating & Cooling Cincinnati offer customers. We also have online deals that can't be topped in the local market. Our service areas include Greater Cincinnati, including Blue Ash, Lebanon, Milford, Monroe, Fairfield, Springboro, and much more. Experience the Five Star Difference today!
We Service All HVAC Brands

Experience the Five Star Difference.


Free Estimates
Schedule Now

Service Call
with a paid repair