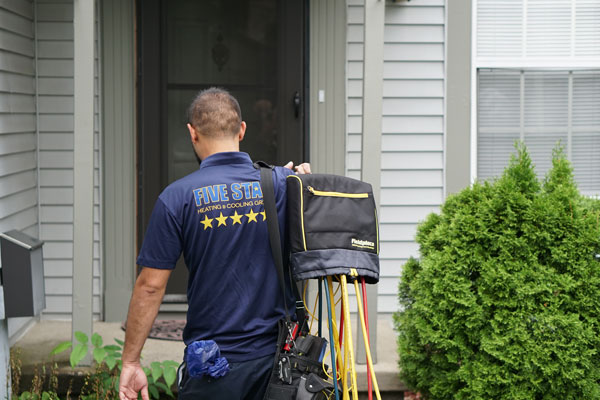 Emergency Heating & Cooling Services in Cincinnati, OH
If your Heating or Cooling system goes on the fritz when you're depending on it for cool comfort or heat, the home comfort heroes here at Five Star Heating & Cooling Cincinnati are ready to help. We are always standing by and we want you to reach out to us right away. When you call us, we won't delay sending a NATE-certified expert out to your home to get your comfort-making machine back online in no time. Best of all, it won't cost an arm and a leg.
We are open 365 days a year. This means every single day of the year we are only a call away, always ready to resolve your furnace, heat pump or central air conditioning issues fast and efficiently. In most cases, we can fix anything related to Heating, Ventilation and Air Conditioning on the spot during the first visit. Because we fully appreciate how a bad A/C unit or defective Heating system can be stressful, uncomfortable, inconvenient and even dangerous during the hottest and coldest months of the year, we do whatever it takes to restore comfort in your home as quickly as possible. Whether you need specialized HVAC repairs or an entire system ends up needing replaced, there is nothing our team of home comfort heroes can't handle with ease. We offer extended customer service hours and guarantee your satisfaction 100 percent.
*Call your local gas company or fire department if you're concerned about a gas leak.*
What Qualifies as an HVAC Emergency?
Anytime an HVAC unit stops Cooling or Heating, indoor temperatures rapidly soar or you notice strange smells or sounds, it's an HVAC emergency. If any of these happen when there are young children, pets or elderly family members in the home, it makes the emergency all the more serious. If you smell gas or something burning, or if the power is turning off and on and your system is making any strange sounds, these are safety issues. Safety should be taken seriously and when you call us with a problem, your HVAC problem becomes our HVAC problem, whether it's a furnace problem or an A/C problem. It doesn't matter. We are here to help.

Loss of Heat
Having heat in our homes is a safety issue when we have family, pets and loved ones. With the weather getting as cold as it gets during the winter, a homeowner in the Greater Cincinnati area needs to have access to reliable Heating equipment if they're going to make it through these icy months. If your Heating equipment, furnace, heat pump or heater isn't producing heat like you need it to, and your home is getting cold, it always merits a call for professional help — for emergency HVAC services or heater repair services.

Safety Issues
Although this might seem like a no-brainer, it would be careless not to list it here. If you suspect any sort of safety issue, don't delay calling us right away. This includes things like strange odors, smoke, gas, refrigerant, sparks or strange loud noises. These types of sounds indicate things no homeowner should take chances with. If you have any concerns whatsoever about the safety and welfare of your family or home because of a heater or A/C problem, we are always here to help because we care about your safety, indoor comfort, and air.

Air Conditioning Failure
When it's hot outside and humid, homeowners truly count on their A/Cs to provide a place to rest and relax away from the heat. This means we need our air conditioning equipment to get us through the entire summertime safely while providing a sort of sanctuary from Ohio's summer heat. If an AC system stops Cooling, interior temperatures can become uncomfortable in a hurry. This is considered an HVAC emergency, especially if there are young children, older family members or pets in the home.
Did you lose the heat in your Cincinnati Ohio area residence? Are you online looking for an emergency furnace repair service near you? If you're trying to find the best local furnace installation or Heating system repair company with the most reasonable price rates near you, you're in the right place.
The home Cooling heroes at Five Star Heating & Cooling Cincinnati are your local HVAC advocates you can call on anytime. We are fast, friendly and local. If summer heat is infringing on your cool home and you're starting to sweat or you have an A/C problem, remember to call us at Five Star Cincinnati. We can also service your heat pump!
Working with leaders in this industry, we can help any area homeowner come up with the right solution to any type of air quality problem, whether that be a problem with indoor air pollution, humidity, toxic gases, allergens, smoke or unpleasant odors. We have a number of products to improve your air quality including thermostat upgrades, humidifiers, air filters, and more.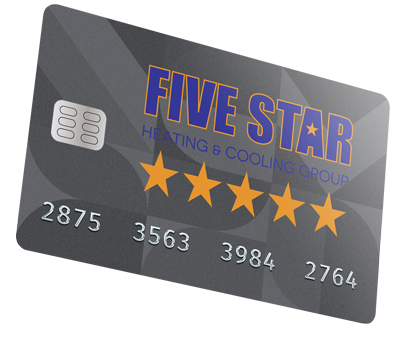 Financing Options in Cincinnati, OH
Quick & Convenient HVAC Financing
Are you needing to purchase a new residential furnace, heat pump or air conditioning system or do you need help covering the cost of expensive repairs? Check out our current financing offer we at Five Star Heating & Cooling Cincinnati offer customers. We have partnered with Wells Fargo Bank to help our customers keep their home comfortable year-round.